What is AMP?
Let's start from the beginning. A business website's job is to sell the product or service. The longer people stay on the site, the more chance you have of getting them interested. If visitors bounce too quickly, you'll miss that chance.

So how do you keep them on your site? One way is with AMP. It increases page loading speed on mobile which helps keep people on the site. It also helps in a few other ways. Let's take a look.
Using AMP, or Accelerated Mobile Pages, results in: 1 10% increase in traffic; 2x increase in time spent on page; 20% growth in sales and conversions on ecommerce sites
Why speed is so important
Faster loading pages means less waiting time
If a page takes too long to load, people bounce. 
47% of consumers expect a web page to load in two seconds or less 2

40% of consumers will wait no more than three seconds…before abandoning the site 2
In addition, it's unlikely they'll come back. "Research suggests 79% of users won't come back once they've had a slow experience on a webpage". 3 Lose them once due to slow loading times? You'll probably lose them for good.
Speed is key for Google rankings
If your site isn't fast, people are less likely to find you on Google and come to your site in the first place. This is because: 1) speed is one of the signals Google uses to rank pages, and 2) when pages are slow, search engines can't crawl as many pages, which can also affect your ranking. 4
And while speed is important on a computer, it's absolutely vital on mobile.
Why speed is so crucial on mobile
What's the big deal about mobile speed? First, more people use mobile devices than computers. Sources say 51% of all internet traffic is from mobile. 5,6 And this will only continue to grow.
Mobile needs to be agile. Whether you're at home or on-the-go, when you're holding the world in your hand, you want—and expect—answers. And that you won't have to wait around to get them.
AMP up your speed
AMP, or Accelerated Mobile Pages, makes pages load faster on mobile devices. In fact, "AMP pages load near instantly – across all devices and platforms." 7 The median loading time is less than half a second. 
What does this almost-instantaneous loading time get you? In short, a better user experience. As a website owner, you'll see improvements in your website's performance. As mentioned, AMP leads to: 1
10% increase in traffic 

2x increase in time spent on page

20% growth in sales and conversions on ecommerce sites
With AMP, more people come to your site, and they spend TWICE as long on a page, leading to more possible purchases. 20% growth in sales speaks for itself.
Given these results, AMP pages like to show themselves off. You'll know it's an AMP page if you see this icon on a Google search page: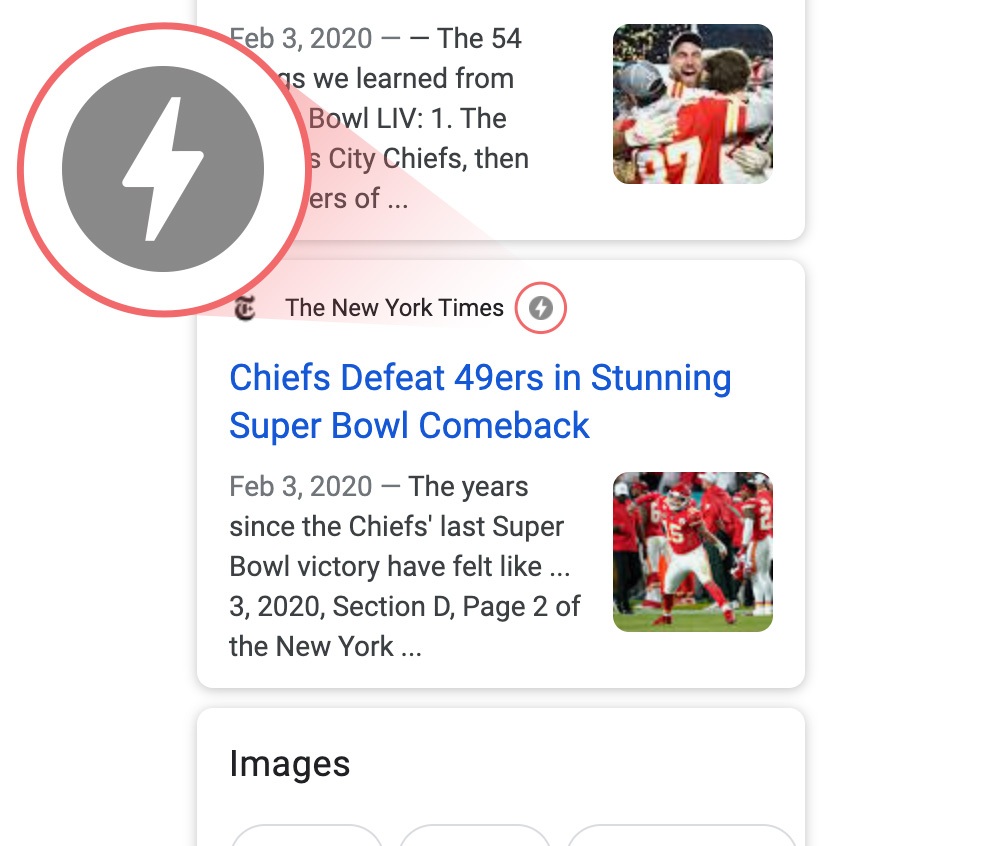 How AMP works – let's talk tech
For those of you more well versed in web technology, here's how AMP works. An AMP website uses regular HTML code, just with a few restrictions so it can load faster. There are also special AMP HTML tags that make common patterns easier to implement. Search engines and other platforms discover these tags to deliver a faster experience — but you can still maintain a non-AMP version of your pages, too.
Check out some sample code here. If you want more information on how this works, please feel free to reach out anytime. We're always happy to talk to those interested in the technology behind the magic.
No need to be techy
If you're not techy—or don't want to build your own site for whatever reason—no worries, we've got you! 💪
We're here to do the heavy lifting, so you can sit back and relax. Using AMP means your mobile pages will load fast. And when your visitors don't bounce, you can get them engaged. Voila. A better site that gets better, measurable results.
Bottom line: With AMP, people will stay on your site longer and will be more likely to return. You'll see results that mean more money in your pocket. Who doesn't love that?